LIFE EUROTURTLE – Collective actions for improving the conservation status of the EU sea turtle population
natisni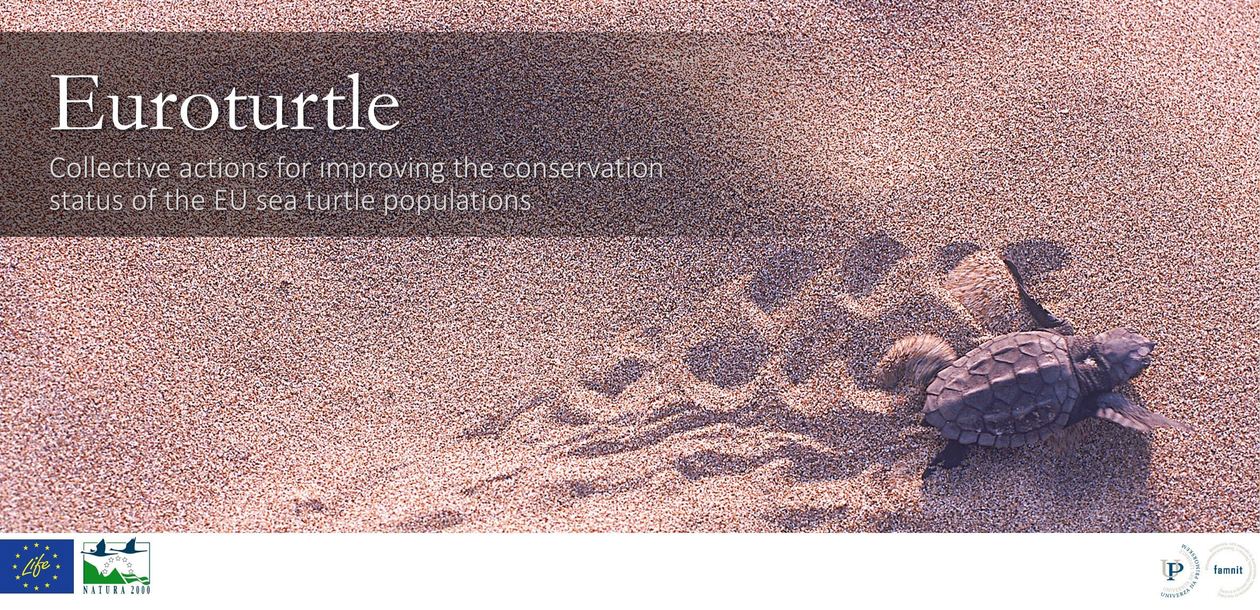 Predstavitev projekta
Naslov: Collective actions for improving the conservation status of the EU sea turtle populations
Akronim: LIFE EUROTURTLE
Oznaka projekta: LIFE15 NAT/HR/000997
Koordinator (vodilni partner): Hrvatski prirodoslovni muzej (Croatian Natural History Museum), Zagreb, Hrvaška
Partnerske institucije:
Vodja projekta na UP FAMNIT: izr. prof. dr. Bojan Lazar
Financer projekta: Evropska komisija, Program Life
Spletna stran: https://www.euroturtles.eu/#/
Raziskovalno področje (ARRS): 1.03.01 Naravoslovje / Biologija / Zoologija in zoofiziologija
Trajanje projekta: 1.9.2016 - 31.8.2021
Opis projekta:
Projekt »Euroturtle - Collective actions for improving the conservation status of the EU sea turtle populations« je usmerjen na celostno varovanje evropskih populacij glavate karete skozi razvoj koordiniranih varstvenih ukrepov ter s povezovanjem glavnih razmnoževalnih in prehranjevalnih habitatov v vodah Evropske unije.
V Sredozemskih vodah Evropske unije živi ena največjih svetovnih populacij glavate karete, morske želve, ki je kot prednostna vrsta uvrščena na seznam strogo zavarovanih vrst Direktive o habitatih EU. Njena glavna gnezdišča so v Grčiji in na Cipru, prehranjevalna območja pa se nahajajo v plitvih vodah Jadrana. Razvoj turizma na gnezdiščih, naključni ulov več kot 11 tisoč želv letno samo v Jadranskemu morju, onesnaževanje in degradacija habitatov ter klimatske spremembe so le nekatere izmed človeških aktivnosti, ki danes ogrožajo regionalne populacije morskih želv.
Učinkovito varstvo teh migratornih organizmov, pomembnih za ohranjanje zdravih morskih ekosistemov, je možno samo s skupnim, koordiniranim pristopom vseh držav, ki si delijo ključne habitate morskih želv. Takšen koncept čezmejnega varstva je osnova projekta Euroturtle, ki je usmerjen na zmanjšanje vplivov antropogenih dejavnikov na gnezdišča in prehranjevalna območja morskih želv, zmanjšanje negativnih posledic ribolova, izboljšanje morske strategije EU, razširitev in izboljšanje upravljanja območij Natura 2000 pomembnih za varstvo morskih želv, promocijo in ozaveščanje javnosti ter vzpostavitev mreže za varstvo ogroženih morskih vrst. Projekt vključuje tudi razvoj novih znanstvenih metod in alternativnih orodij za monitoring in varstvo populacij, predvsem v morskih habitatih. Prav to je naloga, ki jo bo skupaj opravila interdisciplinarna ekipa strokovnjakov in raziskovalcev Oddelka za biodiverziteto in Oddelka za aplikativno naravoslovje UP FAMNIT ter UP IAM.
Project presentationna vrh
Title: Collective actions for improving the conservation status of the EU sea turtle populations
Project acronym: LIFE EUROTURTLE
Project code: LIFE15 NAT/HR/000997
Leading institution: Hrvatski prirodoslovni muzej (Croatian Natural History Museum), Zagreb, Croatia
Partner institutions:
Principal investigator at UP FAMNIT: Assoc. Prof. Dr. Bojan Lazar
Funding organization: European Commission, LIFE Programme
Web page: https://www.euroturtles.eu/#/
Research field (SRA): 1.03.01 Natural sciences / Biology / Zoology and zoophysiology
Duration: 1.9.2016 - 31.8.2021
Description:
The project focuses on areas that are pivotal for the conservation of the two sea turtle species occurring in the EU and listed as priority species in Annex II of the Habitats Directive, the loggerhead turtle (Caretta caretta) and the green turtle (Chelonia mydas). In the EU, the loggerhead turtle has major nesting sites in Greece and Cyprus, and limited nesting in Italy. Most turtles from these sites remain in the eastern Mediterranean, with key foraging grounds located in EU waters, such as the Adriatic (Italy, Slovenia, Croatia), Ionian (Italy, Greece), and the Levantine basin (Cyprus).
In the EU, the green turtle only breeds in Cyprus, and its foraging grounds in EU waters are in Cyprus and Greece (Casale & Margaritoulis, 2010). Those foraging grounds are also frequented by turtles from other Mediterranean nesting sites.
The nesting sites and foraging grounds located in the EU are extremely important for Mediterranean sea turtles. However, anthropogenic threats are also particularly intensive in the EU, with high coastal development and fishing activities, which combined affect sea turtles at all stages of life, from the critical reproductive phase to all age classes at sea.
The activities of this project are focused on those areas where conservation measures are considered important and urgent, and could make a difference for the sea turtle status at EU, national and local levels. The project includes six EU countries: Croatia, Cyprus, Greece, Italy, Malta and Slovenia.
The aim of the LIFE EUROTURTLES project is to improve the conservation status of the EU populations of two priority sea turtle species, the loggerhead turtle and the green turtle.