Quick facts about Famnit 2018/19
print
See also:
Academic Year 2017/2018
Academic Year 2016/2017
Academic Year 2015/2016
Academic Year 2014/2015
Academic Year 2013/2014
Academic Year 2012/2013
Academic Year 2011/2012
Academic Year 2010/2011
Students 2018/19
Enrollment
Undergraduate: 402
Master: 153
Doctoral: 13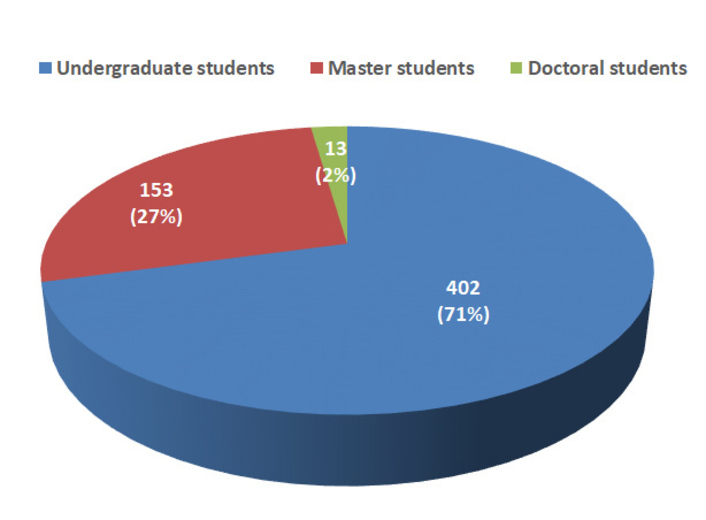 Altogether: 568
Fresmeh (Fall 2018)
Undergraduate: 149
Master: 65
Doctoral: 8
Altogether: 222

International Students
Undergraduate*: 143
Master**: 33
Doctoral***: 12
Altogether: 188
* from Azerbaijan, Belarus, Bosnia and Herzegovina, Croatia, Germany, Italy, Kazakhstan, Kosovo, Macedonia, Montenegro, Russia, Serbia, Spain, Turkey, Uzbekistan and USA.
** from Azerbaijan, Belorus, Bosnia and Herzegovina, Croatia, Czech Republic, Italy, Israel, Kosovo, Mexico, Montenegro, Russia and Serbia.
*** from Argentina, Bosnia and Herzegovina, Columbia, Italy, Hungary, Mexico, Sri Lanka and Uzbekistan.
Erasmus and other exchanges
Incoming*: 32
Outgoing**: 23
* from Croatia, Czech Republic, Germany, Greece, Italy, Kazakhstan, Lituania, Mexico, Portugal, Serbia, Spain, Turkey and USA.
* to Austria, Croatia, Germany, Hungary, Italy, Portugal, Slovakia, Spain, turkey and USA.
Gender Statistics
Female: 326 (57 %)
Male: 242 (43 %)
Famnit Students Share in the Structure of UP Students
The number of UP students: 4.925
The number of FAMNIT students: 568 (11,5 %)
Enrollment by Study Programmes
Undergraduate Programmes (full-time):
Mathematics (Slovene): 13

(

1st year

: 10 / 2nd year: 0 / 3rd year:24 / pre-graduation year: 1)

Mathematics

(English): 21 (10/3/8/0)

Mathematics in Economics and Finance

: 16 (5/5/5/1)

Computer Science

(

Slovene

): 82 (33/35/11/3)

Computer Science

(English): 50 (39/11/0/0)

Bioinformatics (Slovene)

: 17 (9/2/3/3)

Bioinformatics (English)

:

14 (14/0/0/0)
Conservation Biology / Biodiversity

: 57 (14/17/21/5)

Mediterranean Agriculture

: 4 (0/1/2/1)

Biopsychology

: 128 (39/30/35/24)
Master Programmes (full-time):
Mathematical Sciences (Slovenian): 11

(1st year: 5 / 2nd year: 4 /pre-graduation year: 2)

Mathematical Sciences (English): 10

(5/4/1)

Mathematics with Financial Engineering

: 9 (4/2/3)

Computer Science

: 21 (4/2/3)

Nature Conservation: 36 (16/14/6)

Biopsychology: 17 (10/3/4)

Applied Psychology: 47 (23/10/14)

Sustainable Built Environments

: 2 (1/1/0)
Doctoral Programmes (part-time):
Mathematical Sciences

(Slovenian): 1 (0/1/0)

Mathematical Sciences

(English): 8 (5/2/1)

Computer Science: 4 (3/1/0)
Regional Breakdown
Osrednjeslovenska: 16 %
Obalno-kraška: 14,1 %

Goriška: 7,9

%

Gorenjska: 7,6 %

Savinjska:

5,3 %

Podravska

: 4 %

Primorsko-notranjska: 3,7 %

Jugovzhodna:

2,3 %

Pomurska

: 1,8 %

Posavska:

1,8 %

Koroška

: 1 %

Zasavska:

0,9 %

Tujina: 33,6 %
Enrollment History (2007/08 - 2018/19)top
| Study Year | BSc | MSc | PhD | SUM |
| --- | --- | --- | --- | --- |
| 2018/19 | 402 | 153 | 13 | 568 |
| 2017/18 | 385 | 148 | 9 | 542 |
| 2016/17 | 558 | 176 | 26 | 760 |
| 2015/16 | 560 | 185 | 26 | 771 |
| 2014/15 | 596 | 178 | 25 | 799 |
| 2013/14 | 610 | 134 | 32 | 776 |
| 2012/13 | 589 | 79 | 32 | 700 |
| 2011/12 | 465 | 61 | 33 | 559 |
| 2010/11 | 332 | 68 | 17 | 417 |
| 2009/10 | 197 | 27 | 11 | 235 |
| 2008/09 | 149 | 36 | 7 | 192 |
| 2007/08 | 71 | 46 | 9 | 126 |
Degrees Conferred (2008 - 2018)top
| Year | BSc | MSc | PhD | SUM |
| --- | --- | --- | --- | --- |
| 2018 | 92 | 24 | 2 | 118 |
| 2017 | 103 | 32 | 4 | 139 |
| 2016 | 79 | 15 | 5 | 99 |
| 2015 | 89 | 11 | 5 | 105 |
| 2014 | 90 | 13 | 4 | 107 |
| 2013 | 59 | 1 | 3 | 63 |
| 2012 | 30 | 12 | 1 | 43 |
| 2011 | 14 | 2 | 1 | 17 |
| 2010 | 8 | 2 | 0 | 10 |
| 2009 | 0 | 5 | 0 | 5 |
| 2008 | 1 | 1 | 1 | 3 |
| SUM | 365 | 61 | 19 | 445 |
Study Programmes 2018/19top
Undergraduate Programmes:

Mathematics, Mathematics in Economics and Finance, Computer Science, Bioinformatics, Biodiversity/Conservation Biology, Biopsychology.

Master Programmes:

Mathematical Sciences, Mathematics with Financial Engineering, Computer Science, Biopsyhology, Applied Psychology, Nature Conservation, Sustainable Built Environments.
Doctoral Programmes: Mathematical Sciences, Computer Science.
The European Credit Transfer System (ECTS) is applied in all study programs.
Fields of education according to the ISCED 1997 classification at UP FAMNIT: (31) Social and behavioural sciences (Psychology), (42) Life sciences, (46) Mathematics and statistics, (48) Computing, (52) Engineering and engineering trades, (58) Architecture and building, (62) Agriculture, forestry and fishery, (85) Environmental protection, (81) Personal services.
Research Information (2018)top
UP FAMNIT has established close cooperation in the field of research with the University of Primorska, Andrej Marušič Institute (UP IAM), where most of the UP FAMNIT academic staff conduct their research.
Original Scientific Articles of the UP FAMNIT research group in 2018 (1. 1. 2018 - 31. 12. 2018) (source: Sicris):
SCI Expanded, SSCI, Scopus (d) or Scopus (h): 177 (69/53/40/15)
A&HCI or Scopus: 11
Other: 9
Altogether: 197
Original Scientific Articles of the UP IAM research group in 2018 (1. 1. 2018 - 31. 12. 2018) (source: Sicris):
SCI Expanded, SSCI, Scopus (d) or Scopus (h): 91 (33/29/19/10)
A&HCI ali Scopus: 6
Other: 4
Altogether: 101
Teaching, Research and Administrative Staff 2018/19top
The Number of Full-time and Part-time
Employees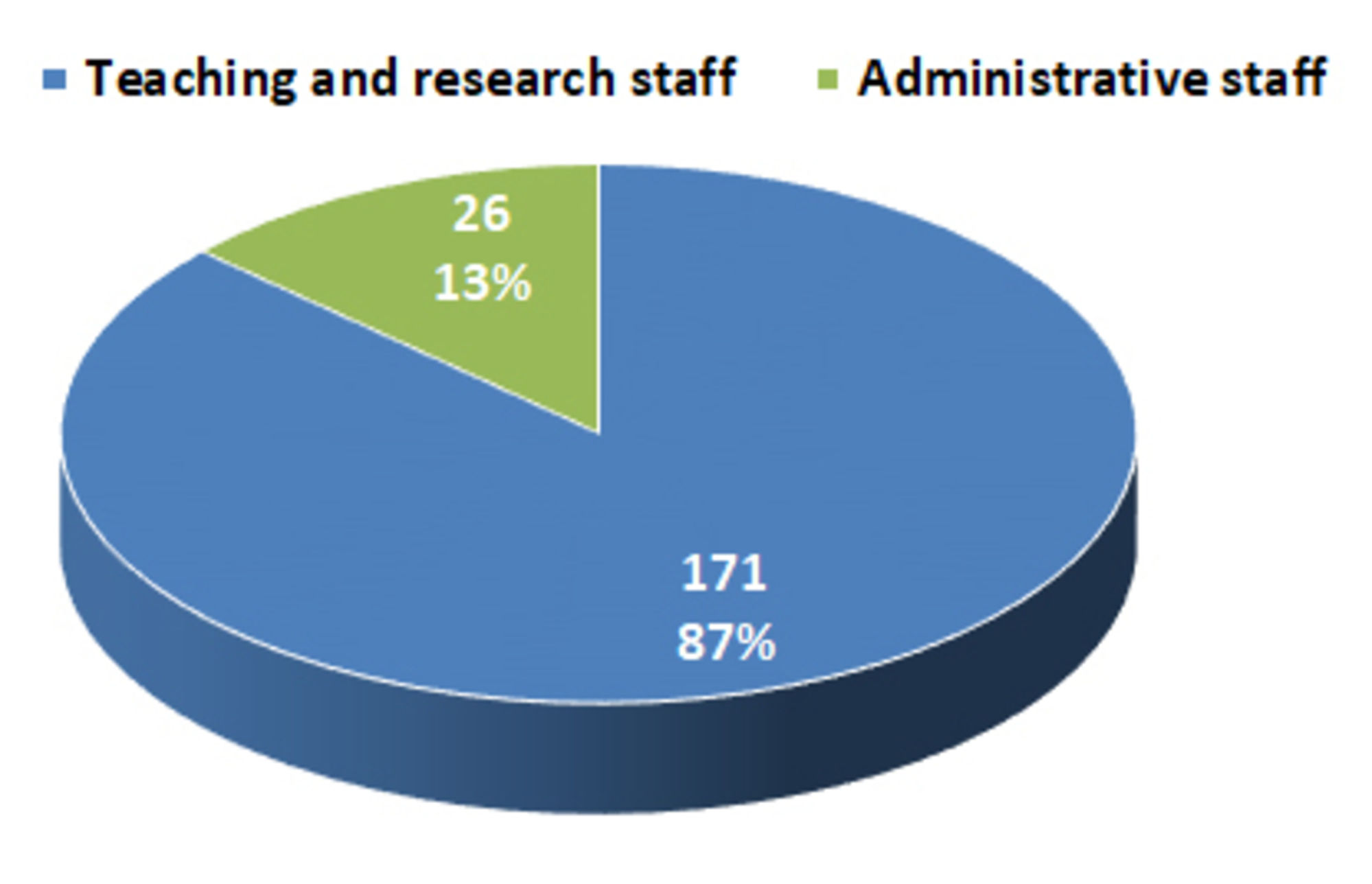 Teaching and research staff:
Full-time: 130 (70,80 FTE)
Part-time: 41
Altogether: 171
of which foreign professors and researcher: 32
Full-time: 22
Part-time: 10
Administrative staff: 26 (22,52 FTE)
Gender Statistics
Teaching and research staff:
Male: 103 (60,23 %)
Female: 68 (39,77 %)
Administrative staff:
Male: 23 (88,46 %)
Female: 3 (11,54 %)
Age structure of personnel
| Age | Male | Female | SUM |
| --- | --- | --- | --- |
| 20-30 | 8 | 19 | 27 |
| 31-40 | 33 | 35 | 68 |
| 41-50 | 38 | 27 | 65 |
| 51-60 | 17 | 6 | 23 |
| 61-70 | 9 | 4 | 13 |
| 71 in več | 1 | 0 | 1 |
| SUM | 106 | 91 | 197 |
Financial Information (Fiscal Year 2018)top
Total Net Assets: EUR 6.43 million
| Funding Source | EUR |
| --- | --- |
| The MIZŠ - education funds | 3.251.136 |
| The ARRS - research activity funds | 480.676 |
| Other budgetary sources (other ministries and budgets of local communities) | 20.496 |
| The European budget - community programmes | 2.538.695 |
| Public service - other | 111.984 |
| Funds acquired from the sale of merchandise | 30.279 |
| SUM in 2016 | 6.433.266 |
Highlights from 2018top
Assoc. Prof. Andreja Kutnar, PhD awarded with the prestigious Zois Certificate of Recognition
On 27 November 2018, our professor and researcher Assoc. Prof. Andreja Kutnar, PhD received the Zois Certificate of Recognition for important achievements in scientific research work in the field of wood science.
Dr Kutnar is one of the world's leading scientists in the fields of wood composites, thermo-hydromechanical treatment of wood, sustainable built environments, and environmental impact analysis. With interdisciplinary and international research, she co-created and established a new research area - restorative environmental and ergonomic design, which is also one of the key research areas at the InnoRenew CoE.
Zois Awards and Recognitions are the most prestigious awards for exceptional achievements in scientific research and development activities, awarded to researchers in the Republic of Slovenia.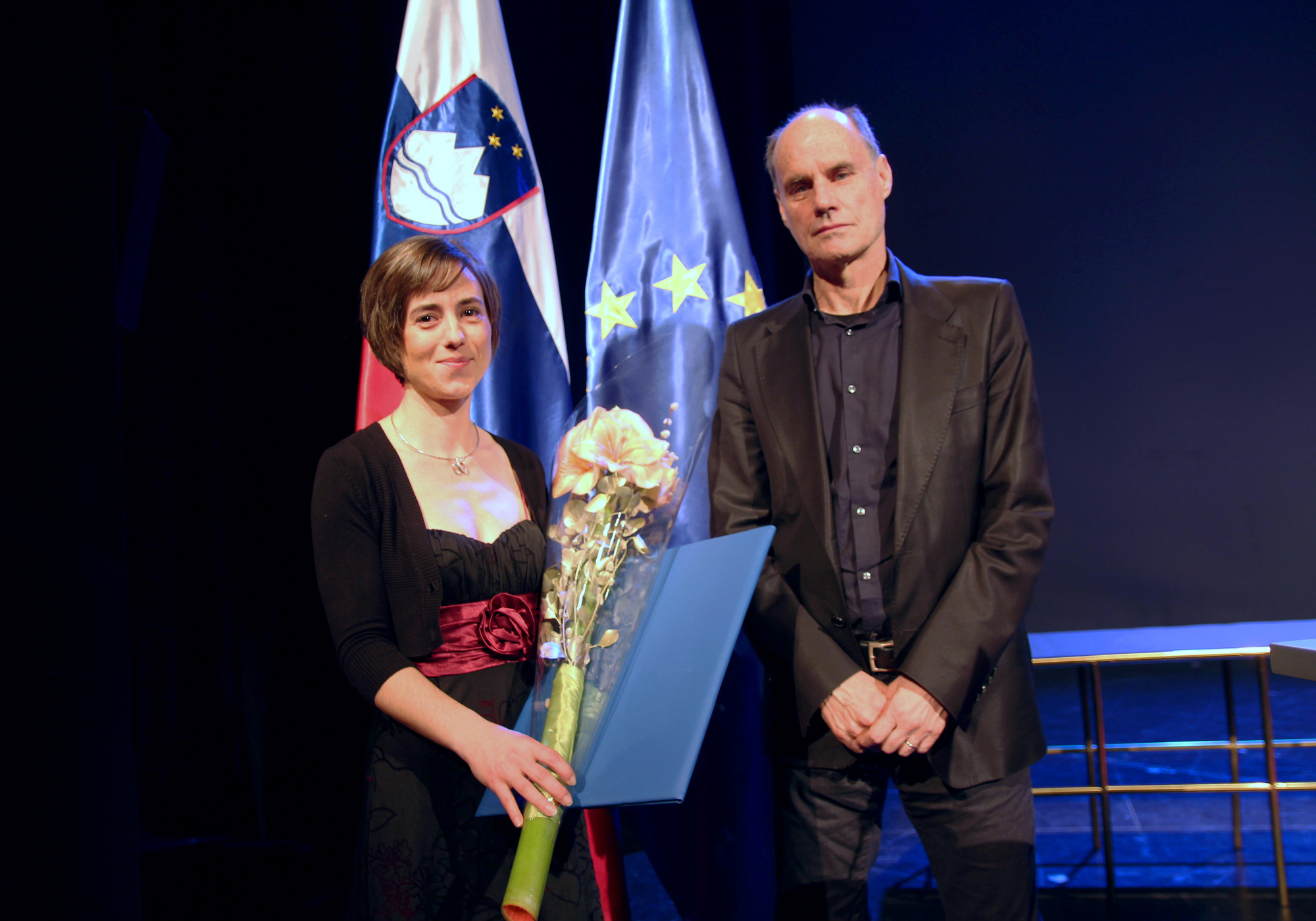 International cooperation: projects and collaborations
Also in 2018, we were very successful in obtaining founds for projects in the frame of different international programmes. One of the most important achievements was reached by UP IAM and UP FAMNIT researchers who have successfully obtained funds for a new research program from the Slovenian Research Ag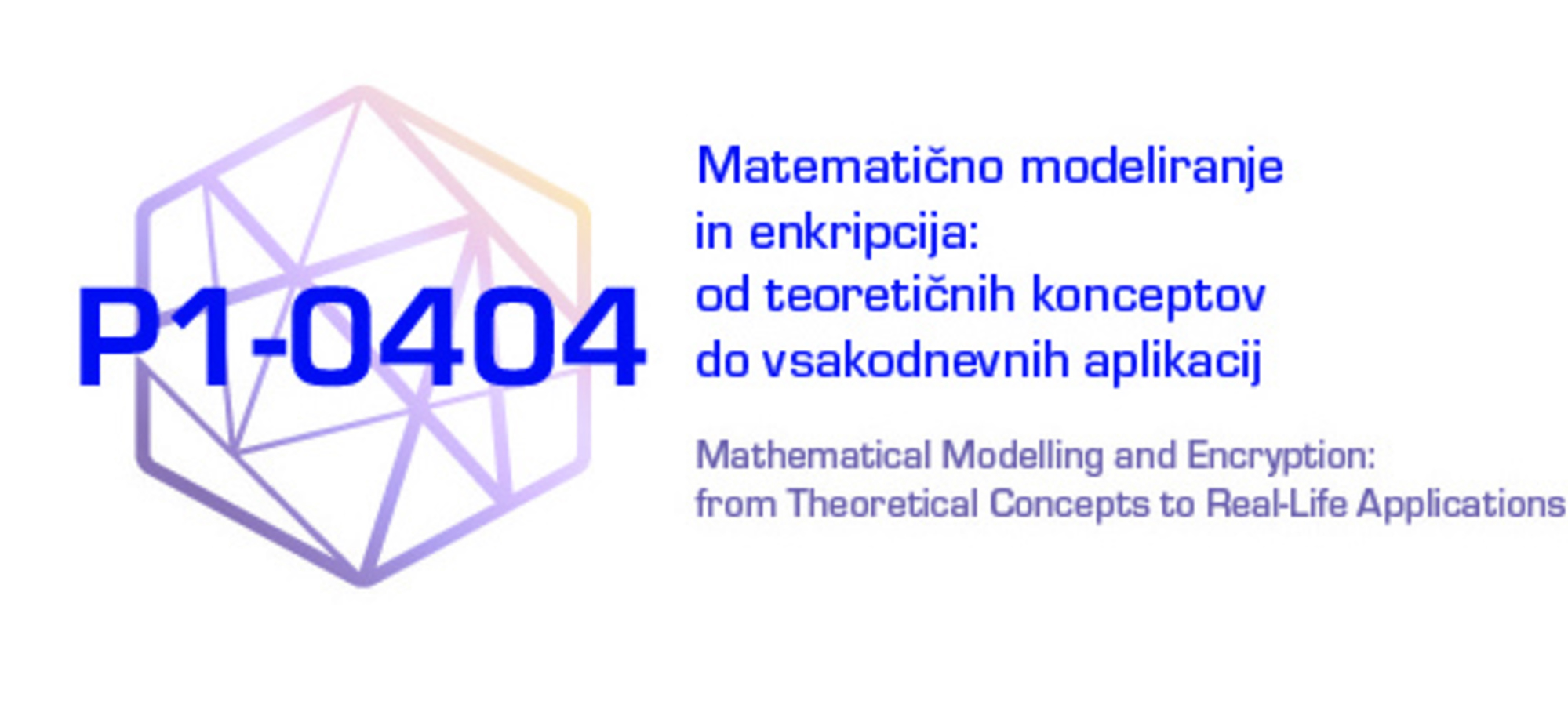 ency (ARRS).
In the next six years, within the program »Mathematical modelling and encryption: from theoretical concepts to real-life applications«, new and innovative methods of research in the field of mathematics will be developed under the direction of Prof. Enes Pasalic, PhD, expert in symmetric-key cryptography and Head of the UP FAMNIT Center of Cryptography, who will work with an international and interdisciplinary team of researchers, doctoral and postdoctoral students working at our University and at the Institute InnoRenew CoE.
In the field of mathematics, we recorded success also in obtaining eight new research projects from the scientific research cooperation ARRS with the Russian Federation, five with the United States and two with Bosnia and Herzegovina.
The Department of Applied Natural Sciences successfully continued working on the project SUSGRAPE »Promoting sustainable wine-growing through ICT in the cross-border area of IT-SLO«, as a partner institution, in the frame of Interreg Program V-A Italy-Slovenia 2014-2020. Additionally, the Department of Biodiversity, together with partners from Slovenia and Croatia, was intensely working on project under the Interreg Program V-A Slovenia-Croatia, entitled LIKE - Living on the Karst Edge.
Our researchers also continue to work on bigger international projects, which have been financed from the EU programme Horizon 2020 (InnoRenew CoE, Starbios2 and Pro-Enrich) and the EU programme Life (Life Euroturtles).
UP FAMNIT has a wide network of connections and cooperations with prestigious universities and research institutes from all over the world. Several of them are also highly rang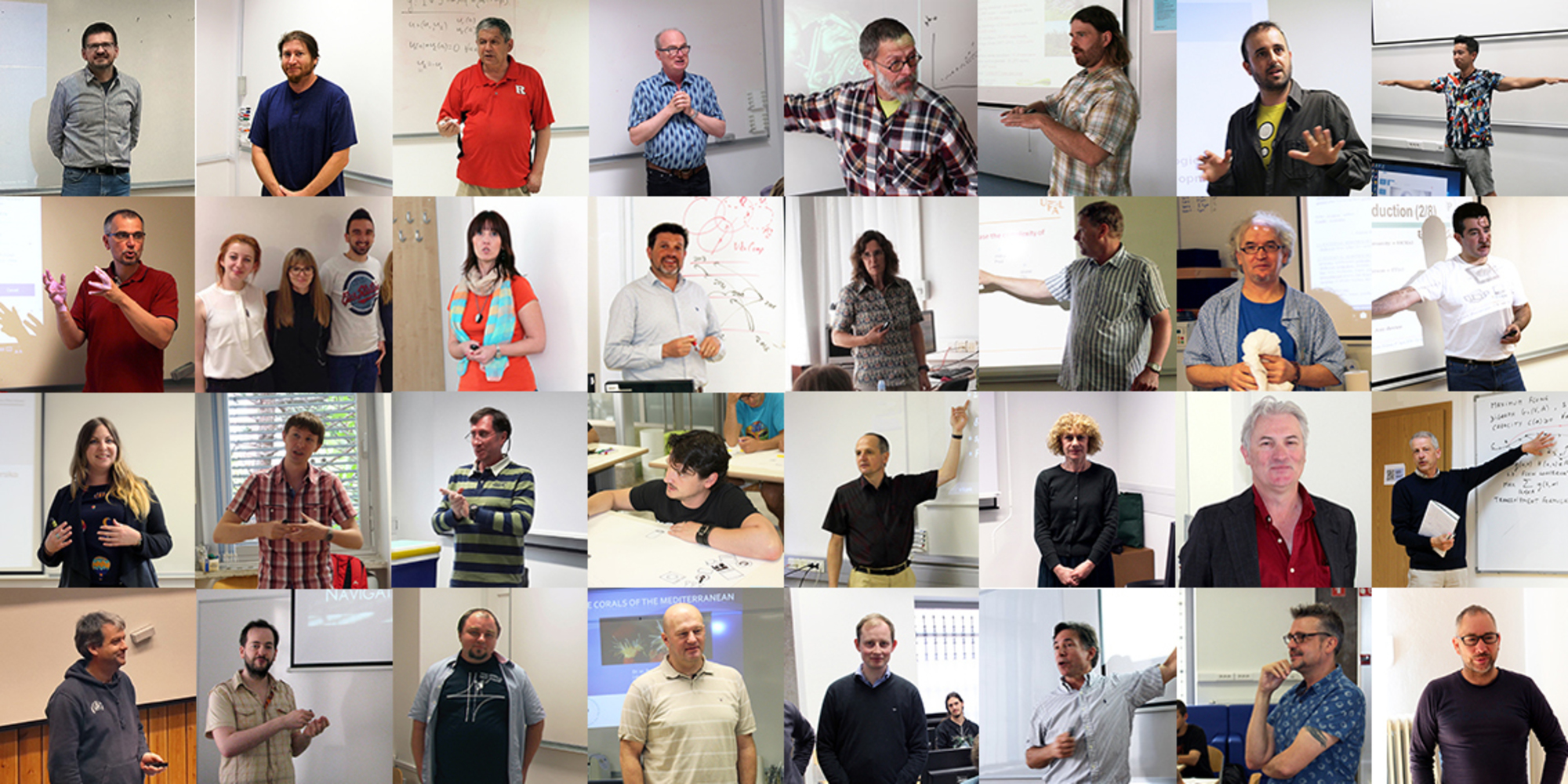 ed in Shanghai's Academic Ranking of World Universities. At UP FAMNIT foreign experts are hosted in the frame of a different projects, one of them is the GUEST UP - Hosting foreign experts and professors at the University of Primorska, or individual arrangements. In the year 2018 the number of incoming experts increased to 121. Similar success can be seen in mobilities of our teachers and researchers: in the last 12 months more than 100 research visits were performed at foreign institutions.
The internationality of UP FAMNIT is also shown in the increasing number of students from abroad. This academic year (2018/2019) we welcomed 103 new freshmen who are not Slovenian sitizens. Students from abroad represent almost 45 % of all FAMNIT freshmen. At UP FAMNIT is currently studying 191 foreign students (33 % of all students), from 23 different countries: Argentina, Azerbaijan, Belarus, Bosnia and Herzegovina, Croatia, Columbia, Czech Republic, Germany, Hungary, Israel, Italy, Kazakhstan, Kosovo, Macedonia, Mexico, Montenegro, Russia, Serbia, Spain, Sri Lanka, Turkey, Uzbekistan and USA.
In addition, there are 15 more students who came to Koper through different mobility programmes ((Erasmus+, Erasmus Mundus).
In June 2018, together with Oregon State University (USA), we organized the summer school IsMSC: International School of Marine Conservation Science, which brought together 20 post-graduated students from 11 countries (Croatia, Estonia, Finland, Germany, Hungary, India, Indonesia, Montenegro, Spain, Sweden and USA).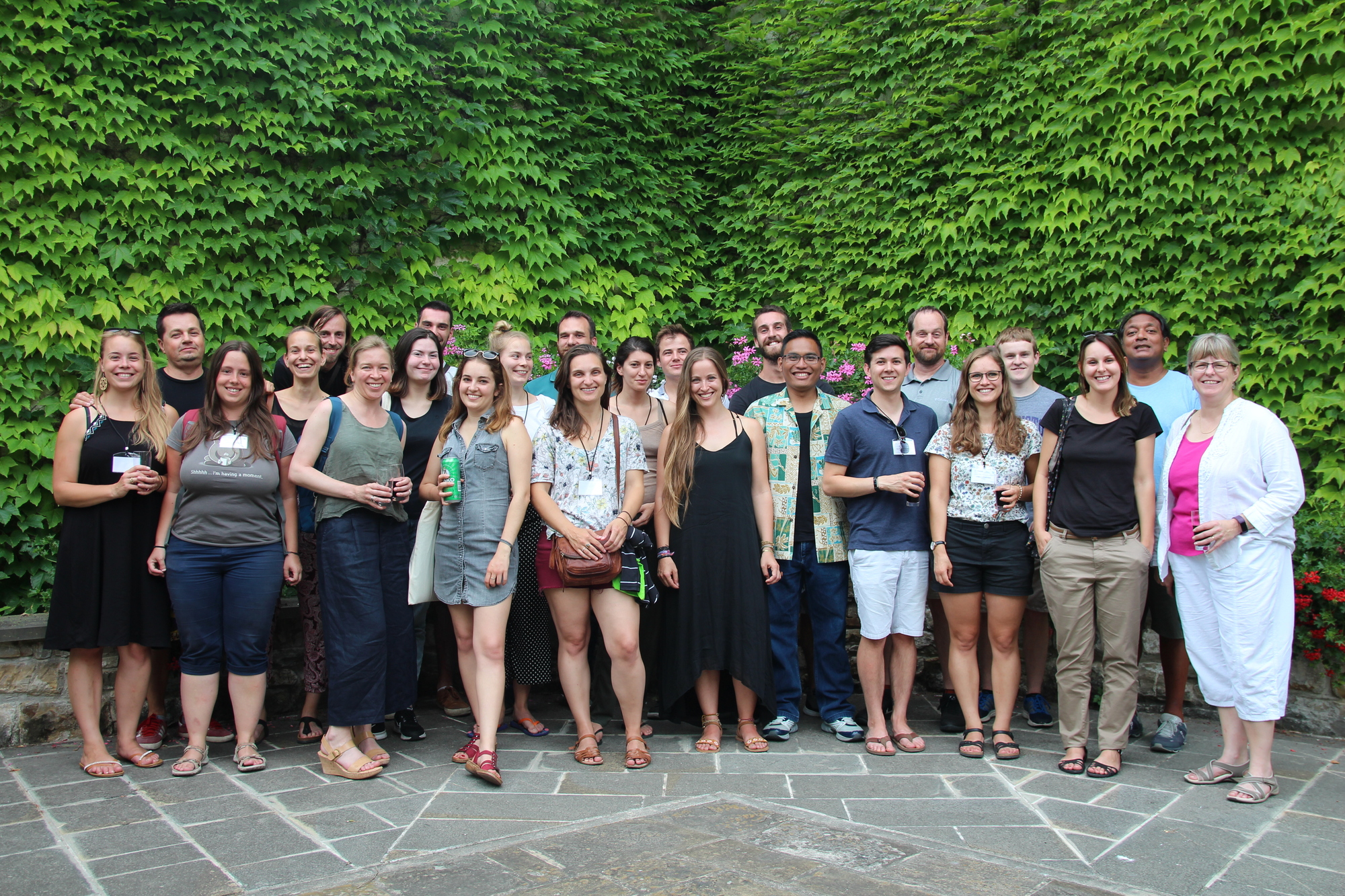 The Department of Mathematics continued its preparatory activities for the organisation of the European Congress of Mathematics 2020 in Portorož, under which international meetings and the hosting of foreign professors and researchers are held. In 2018, we were delighted by the news that Borut Pahor, President of the Republic of Slovenia, will be the honorary patron of the Congress.
New Center for cryptography and Lab HICUP
In 2018, we established the Center for Cryptography, led by Prof. Enes Pasalic, PhD. It aims to significantly increase the possibilities of cooperation between the university, industry and the wider society, as in the modern society, the exchange and storage of information in an efficient, reliable and safe way, is essential. In the modern world, intense research activity in the field of cryptography is extremely important, since cryptographic codes protect information from unauthorized access, alterations and other abuses, making the use of cryptography in economy and industry essential on the national and international levels.
The Department of Information Sciences and Technologies has founded HICUP Humans Interacting with Computers at University of Primorska Laboratory, which aim is to examine the interaction between humans and computer system (personal computer, smartphone, smart watch etc.).
Although interaction between human and computer is increasing, the most commonly used modes of this interaction have not changed significantly over the last 40 years. Therefore, the HICUP group tries to rethink human-computer interaction with the aim of making seamless, natural and integrated interfaces. The goal is to design and develop interfaces that are natural extensions of our minds, bodies and behaviour. Our researchers are achieving this by exploring novel interaction concepts leveraging on techniques such as: data mining, machine learning, computer vision, computer graphics, speech & language processing, human perception and cognition.
Awards, prizes and achievements of our students, professors and researchers
The prestigious publishing house Cambridge University Press has published the 3rd edition of the successful textbook Exploratory Social Network Analysis with Pajek, whose co-author is our researcher prof. dr. Vladimir Batagelj. A fundamental redesigned and expanded third edition of the highly successful textbook of 2005 is published in the collection Structural Analysis and the Social Sciences and provides updated material for researching social networks with the program.
The main structural concepts and their applications in social research are introduced with exercises. Pajek software and datasets are available, so readers can learn network analysis through application and case studies. In the end readers will have the knowledge, skills and tools to apply network analysis across different disciplines.
In March 2018, the University of Primorska held the Gala Academy to award successful professors, researchers and students. Awarded colleagues of UP FAMNIT were:
Prof. dr. Enes Pasalic, professor and researcher on UP FAMNIT and UP IAM, who received the Scientific Excellence Award in the field of science and technology,
Luka Pavlović, student of the 2nd year of the master's study program Mathematical Sciences, who received the UP award for students for above average achievements in the field of extra-curricular activities and contribution to the recognition of the University of Primorska at the international and national level.
Nataša Škorja Djikanović, head of the Accounting and Finance UP FAMNIT and UP IAM, received a special recognition for professional work and outstanding achievements in the past year.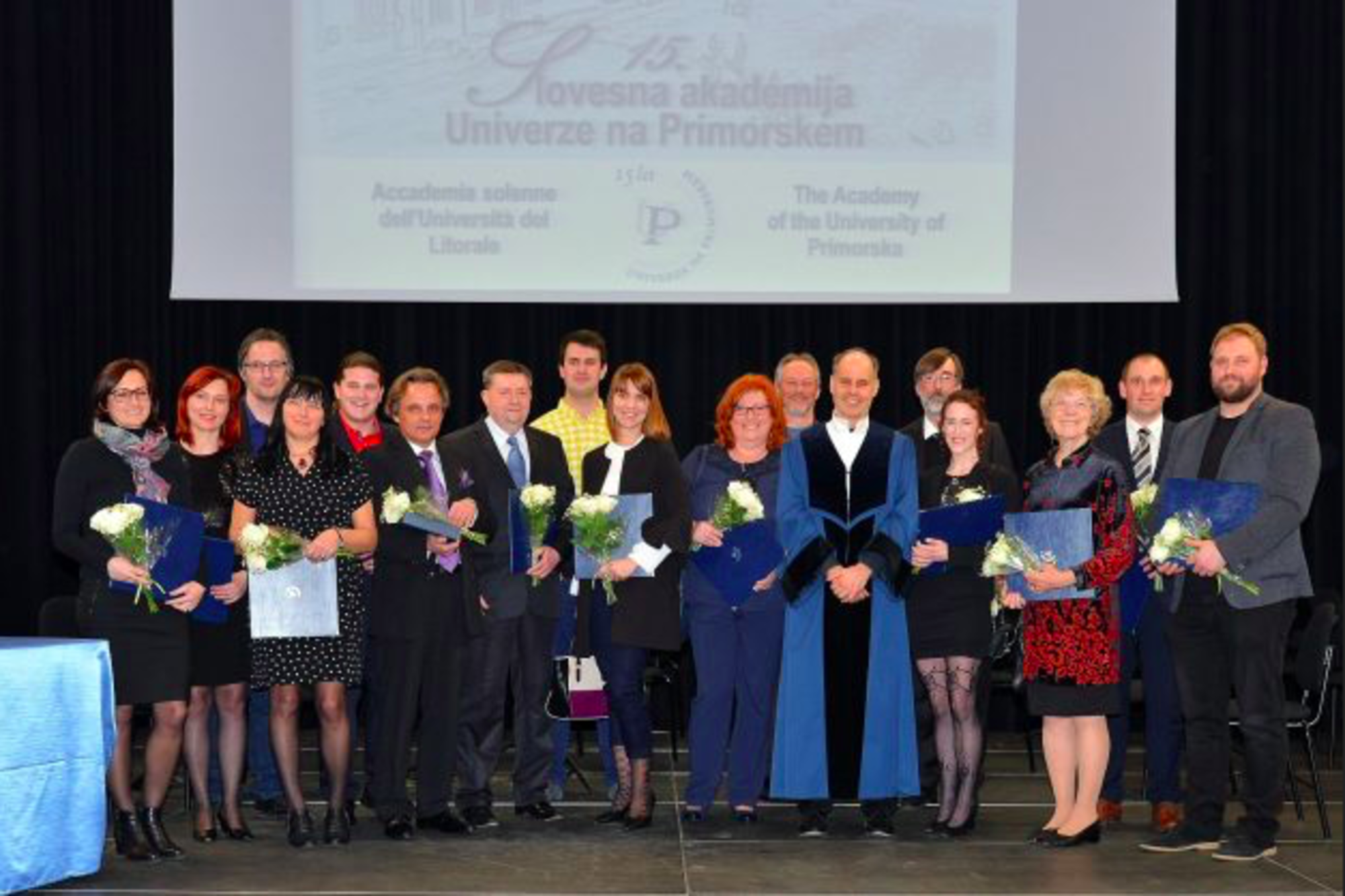 Mag. Tilen Genov, assistant and researcher at the Department of Biodiversity, founder and president of the Slovenian Marine Mammal Society - Morigenos, received The Mandy McMath Conservation Award 2018 for his outstanding contribution to the field of marine mammal conservation and welfare, with particular emphasis on contributions to environmental education.
During summer, our research group of agronomists and geneticist from the Department of Applied Natural Sciences (Dunja Bandelj PhD, Matjaž Hladnik PhD, Alenka Baruca PhD and Tea Knap), as first in the world successfully sequenced the genome of Helichrysum italicum. With this achievement a number of opportunities are opening and for this purpose, in cooperation with the company Agraria Koper, they established a plantation with different populations of the plant. The next step will be to process extensive data sequences with help of bioinformatics, which is a fast evolving field, and the development of DNA markers. The benefits of the research are also expected by the UP FAMNIT students who will be able to participate in the project.
At the end of the year, our professor, researcher and director of the InnoRenew Coe Institute, Assoc. Prof. Andreja Kutnar, PhD, became a member of Young Academy of Europe. It is a European non-governmental academy that joins together young top scientists and lecturers that make a major contribution to the development of science and scientific policies.
Successes of our students at national and international competitions and contests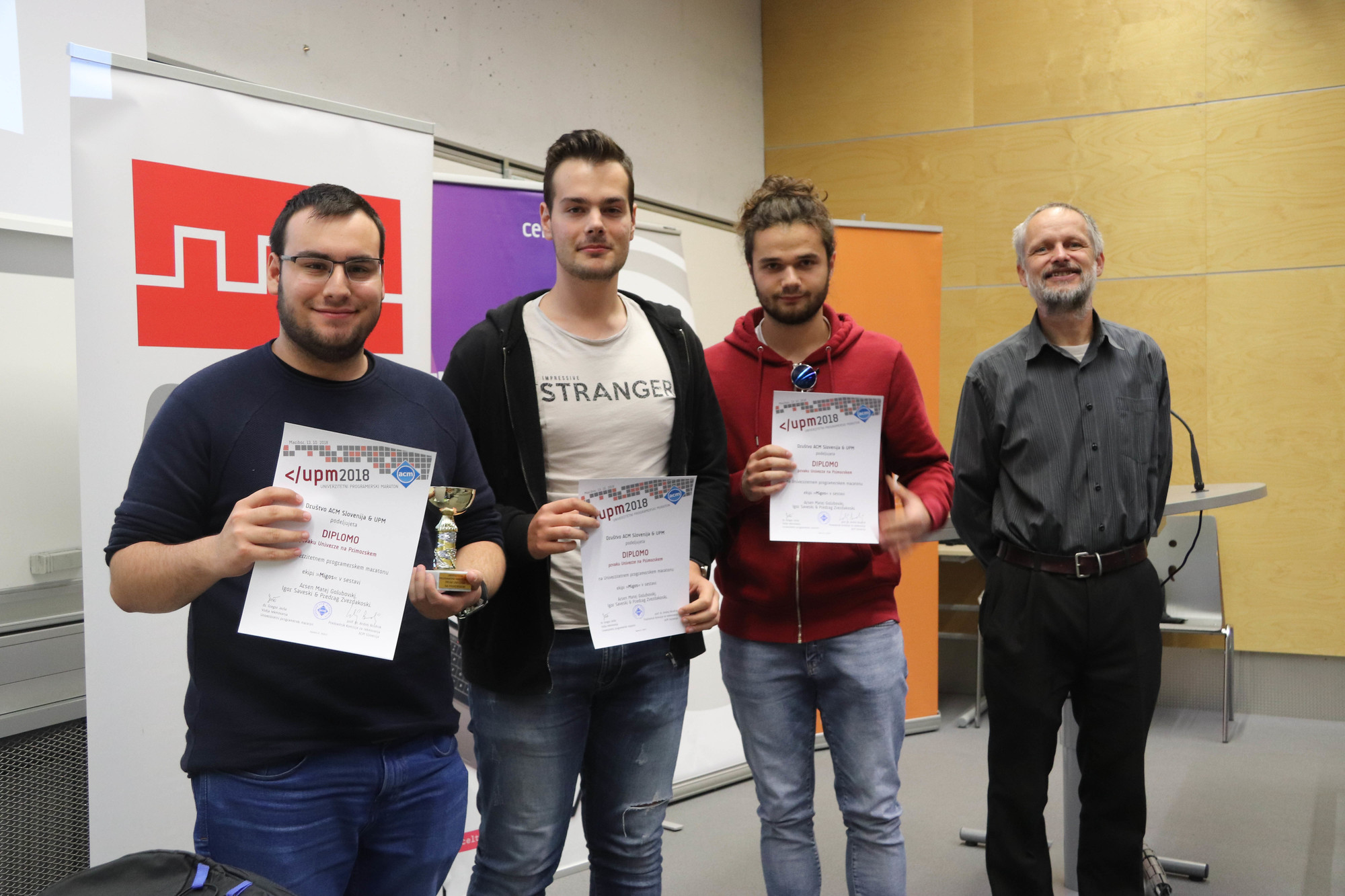 Also in 2017/18, our students participated in the UPM - University programing marathon. After some rounds on slovenian universities, the finale took place in Maribor, where the best 16 teams (with 46 competitors in total) competed for the title of national winners. "Migos" (Arsen Matej Golubovikj, Igor Saveski and Predrag Zvezdakoski) was the 2018 best team of the University of Primorska.
At the national competition of students in the field of mathematics for Jurij Vega's awards, the highest number of points was collected by our student of Mathematics at UP FAMNIT Roman Solodukhin. With the final result, he won both the gold award and also the first prize of this year's competition.
Also this year, our math students participated at the oldest mathematics competition for students within EU: the 28th Vojtěch Jarník International Mathematical Competition, which was held in Ostrava (Czech Republic). Famnit was represented by Đorđe Mitrović (1st year of Mathematics), Arbër Avdullahu and Daniil Baldouski (both 2nd year of Mathematics), in the second category our Faculty was represented by Mirza Krbezlija (3rd year of Mathematics). Mitrović, Avdullah, and Baldouski received the certificate of a successful participant.
Đorđe Mitrović, Daniil Baldouski and Arbër Avdulahu participated in the International Mathematics Competition for University Students 2018 which was held in July in Blagoevgrad (Bulgaria). Avdullahu and Baldouski received the silver medal, while Mitrović was awarded the certificate of a successful participant.
At the end of October, our Faculty team was invited to the first Interna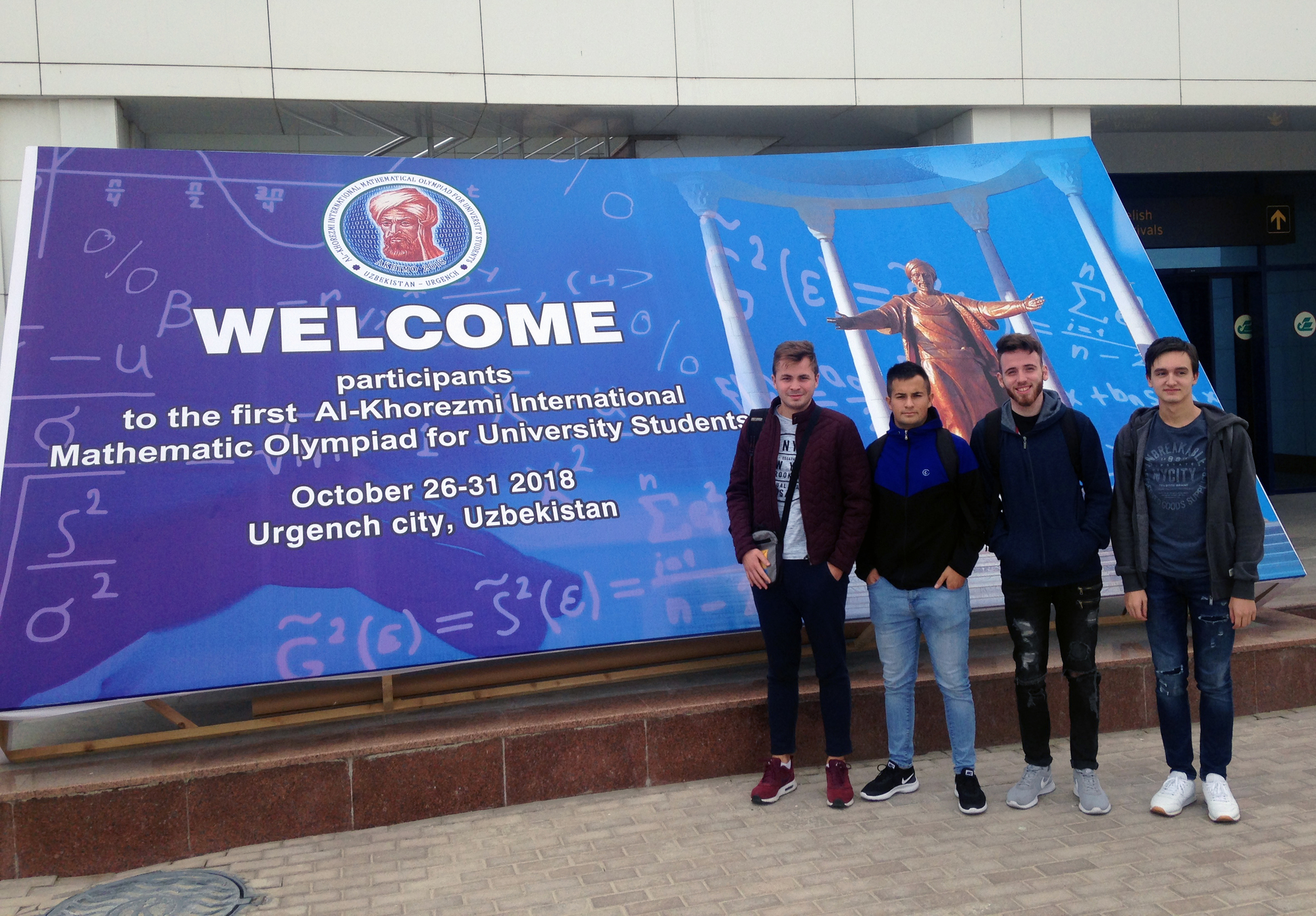 tional Mathematical Olympiad for university students, 1st Al-Khorezmi International Mathematical Olympiad for University Students, which was this year in Urgench, Uzbekistan. Members of the team that represented both the University of Primorska and Slovenia were: Filip Božić, Daniil Baldouski, Đorđe Mitrović and Aleksandar Avdalović (all undergraduate studies of Mathematics). The competitors had five hours to solve tasks from algebra, analysis, number theory, geometry and combinatorics. Đorđe Mitrović ranked #23 and was awarded with the silver medal.
At the november's award ceremony for the best business idea of ​​Primorska, in the category Rector's award, Nika Tomažič (Biodiversity) and Monika Kršić (Mediterranean agriculture) convinced the commission with the project of biodegradable Cupgrape – Gronček. Second award went to Goran Tubić (master student of Computer Science) for his app Home Bucket.
The two winners were already succesfull in May 2017, at the International Call for Solutions competition: among the 87 ideas from around the world, the bio-degradable pot Gronček was rated as the best product.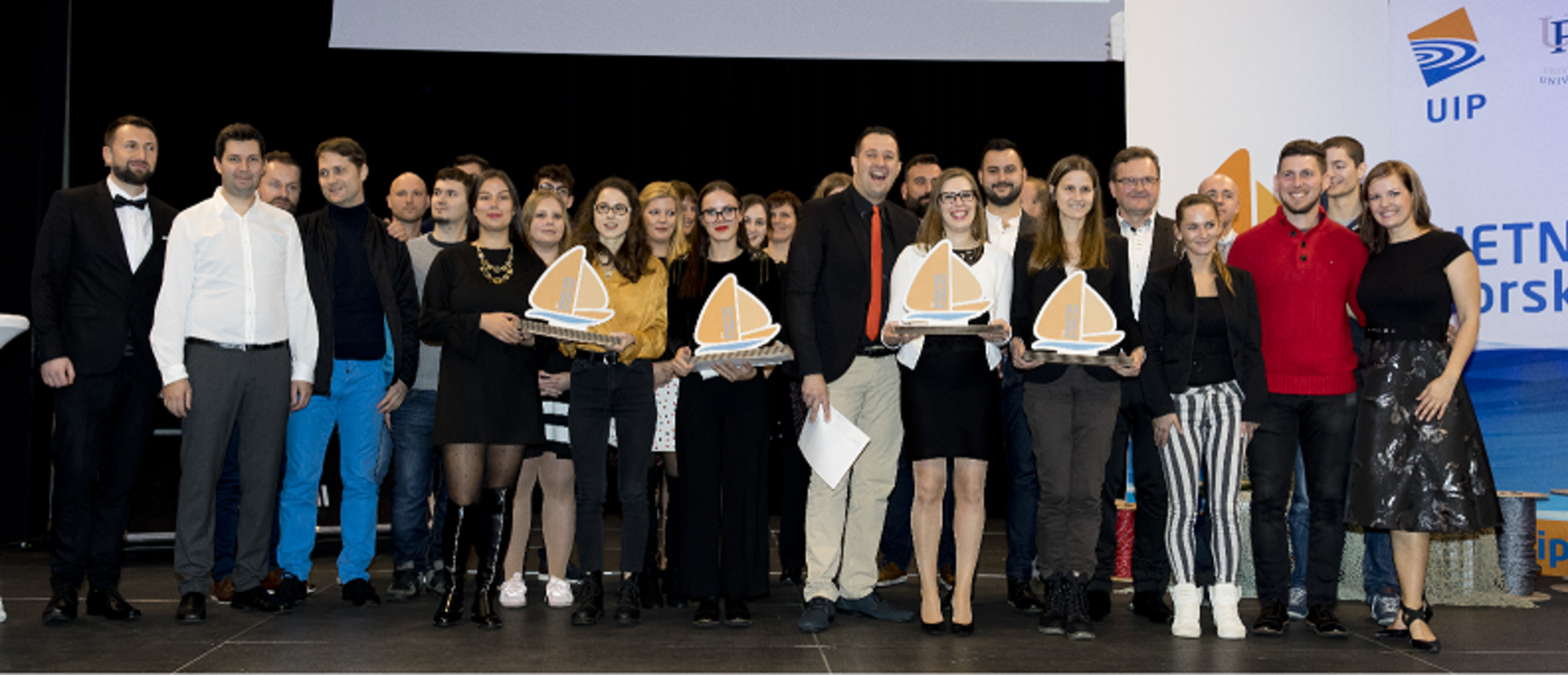 Organization of International Scientific Conferences and Meetings
In the year 2018, we continued with the organization of international scientific conferences, meetings, and summer schools in the fields of mathematics, computer science, psychology, health care and sustainable construction. This were:
Annual UP FAMNIT graduation ceremony and UP doctoral degree conferment ceremony
On Friday, 8th June, the 8th Graduation Ceremony of UP FAMNIT took place at the Koper Theater. Diplomas were awarded to 81 undergraduate and 30 graduate students. In addition, 9 students received rewards of the Faculty for their achievements and active involvement in the Faculty life.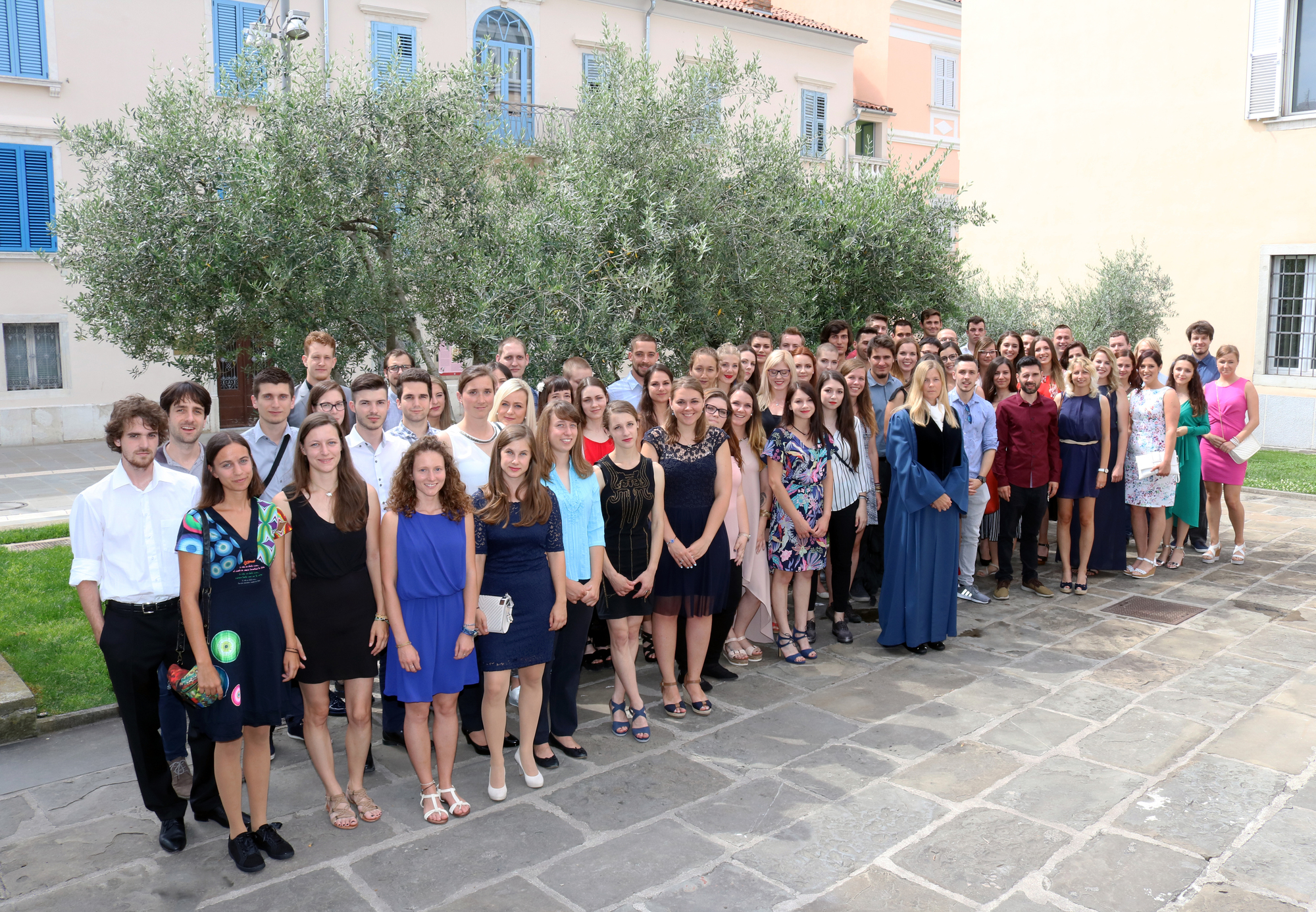 On 18th October, new doctors of science were promoted at the Universiy of Primorska. Among them were also Ana Zalokar and Nastja Cepak, who both completed their doctoral studies in Mathematical Sciences.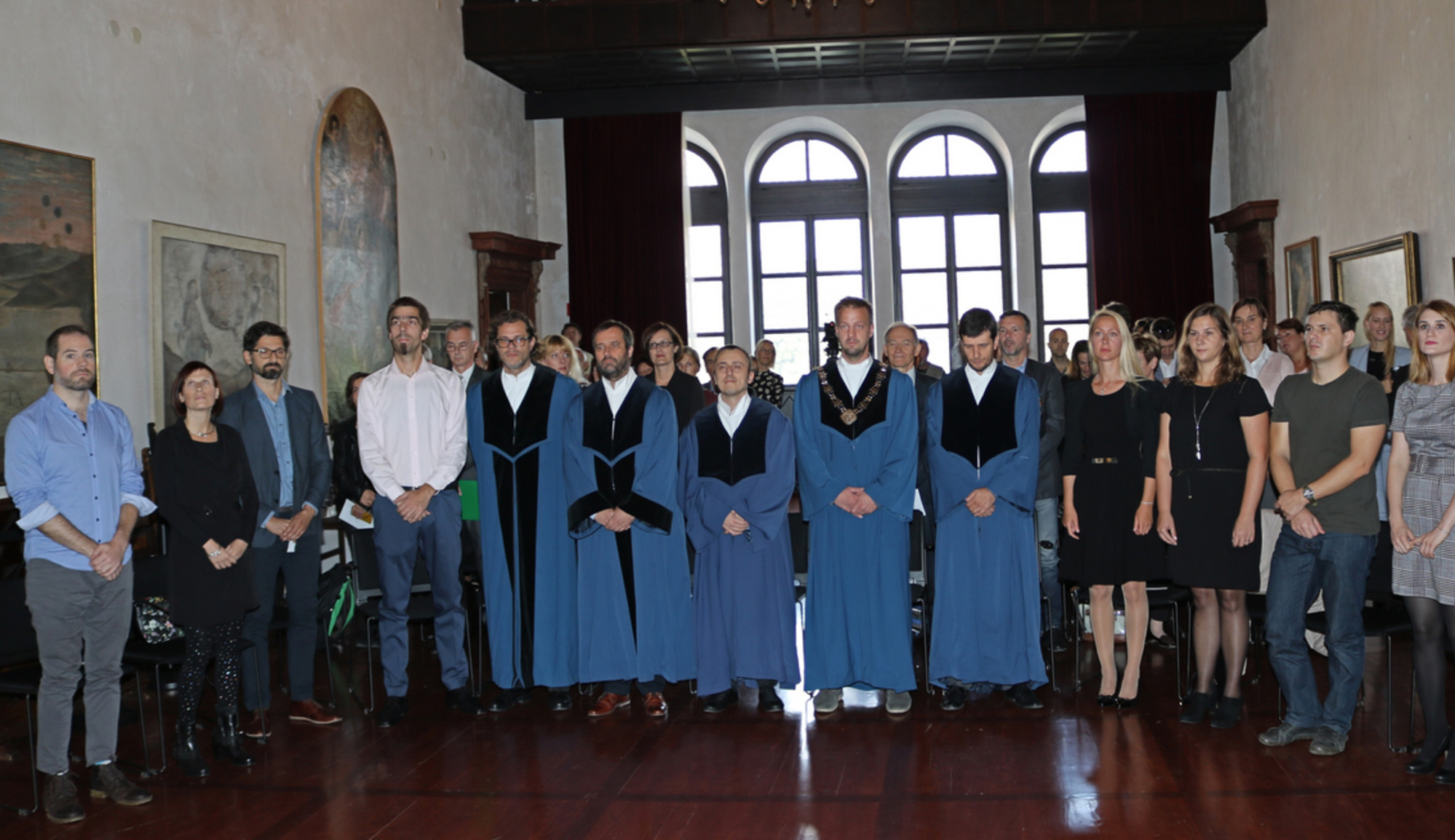 Activities of promotion and popularization of Natural Sciences
Also in 2018 we organized or participated in several events, whose common goal was the popularization of science. Round tables, seminars and other activities for different audiences were organized. Also our students were active in organizing different activities, especially the members of the Association of Biopsychology Students and the Association of Conservation Biologists BIODIVA. Students and others were offered courses in the field of computer science, biology, agriculture and other meetings with experts from different fields of natural science.
Within the framework of the ninth cycle of popular lectures Famnit Excursions into the Mathematical Universe on the topics of mathematics and its role in the modern world, the participants listened to different lectures, given by Assoc. Prof. Mihael Perman, PhD, Assist. Prof. Nina Bašič, PhD, Assist. Prof. Matjaž Krnc, PhD, Assoc. Prof. Aljaž Ule, PhD, Assist. Prof. Jurij Kovič, PhD, and Bogdan Soban.
Other departments were also active with lectures for the general public, delivered by guests from Slovenia and abroad.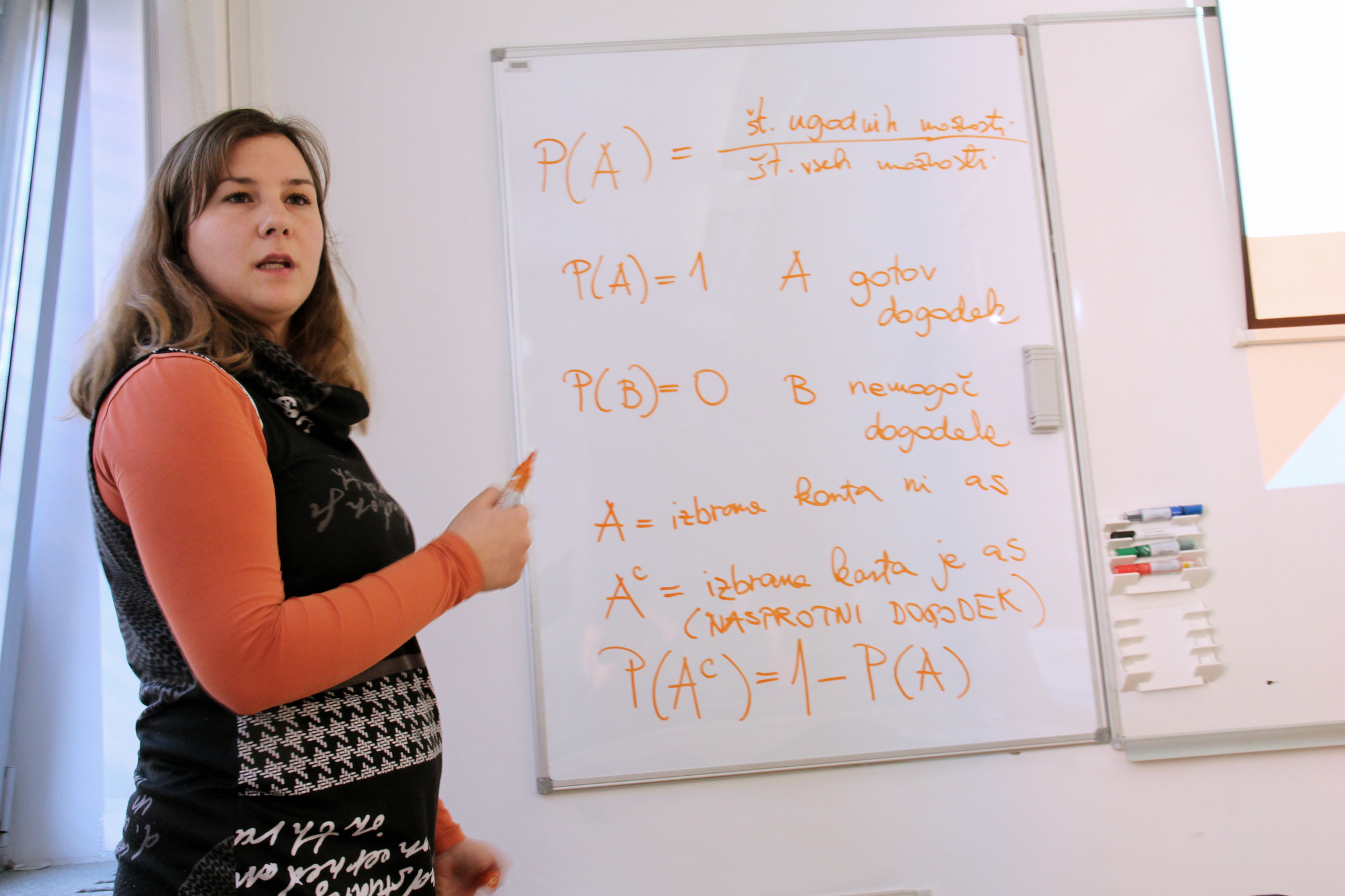 In the first months of the year, we successfully organized two mathematical days. The first one was in January, when 111 students from Koper Gymnasium visited the Faculty. The other was in April (with 63 pupils from three Elementary Schools).
With their youthful enthusiasm in March, pupills from all over the country filled all spaces of the Faculty during the national competition in Biology for the Proteus Prize. While 400 participants were doing their best solving biological tests, the Department of Biodiversity organized a workshop for the biology-teachers.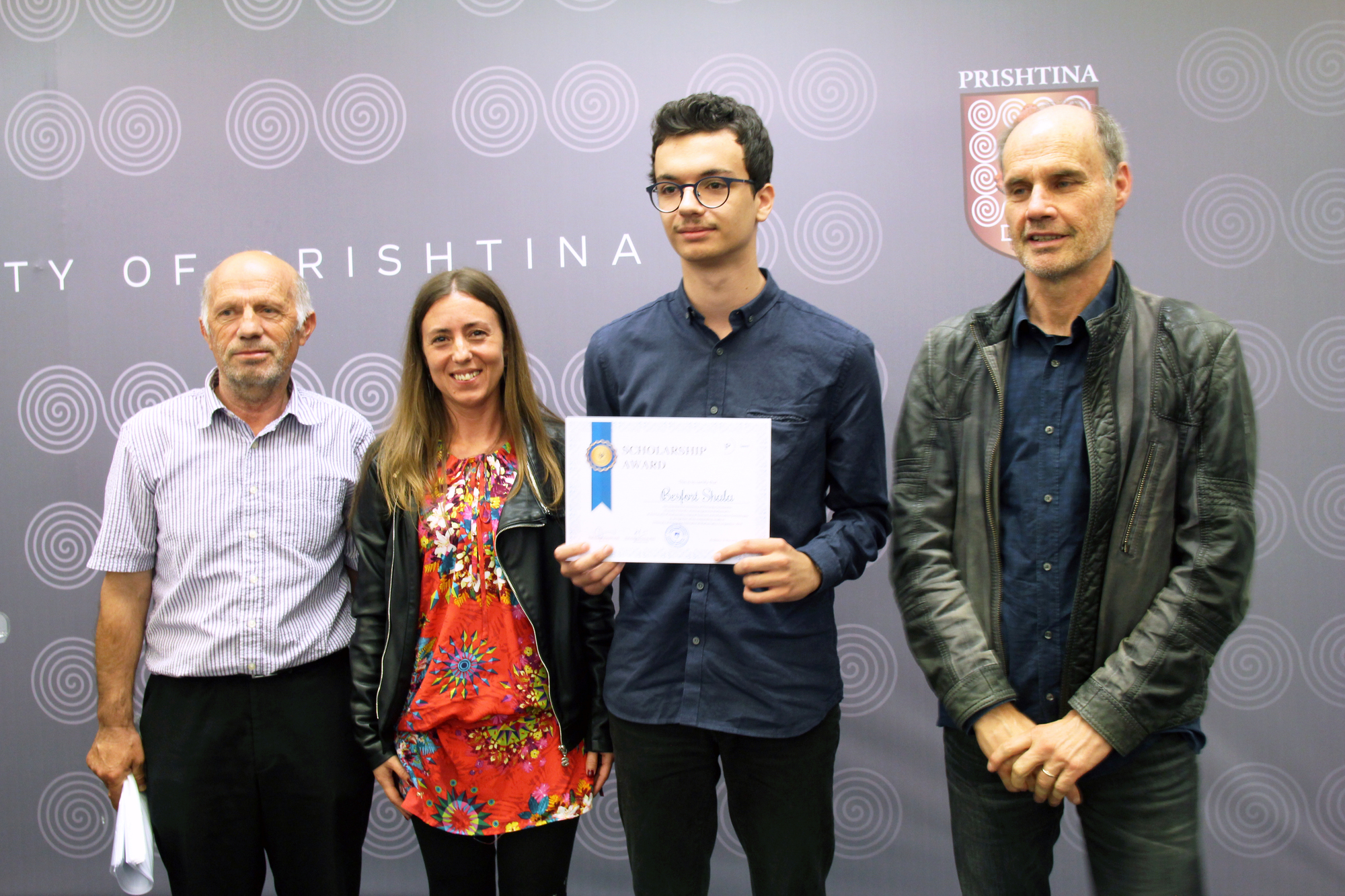 In April and May, we promoted mathematics also abroad. After last year's success in Kosovo, we organized again the International mathematical competition in Prishtina, which was attended by 19 pupils from five high schools. On the award ceremony in May the best competitor Besfort Shala received the diploma and a scholarship for studies at the University of Primorska.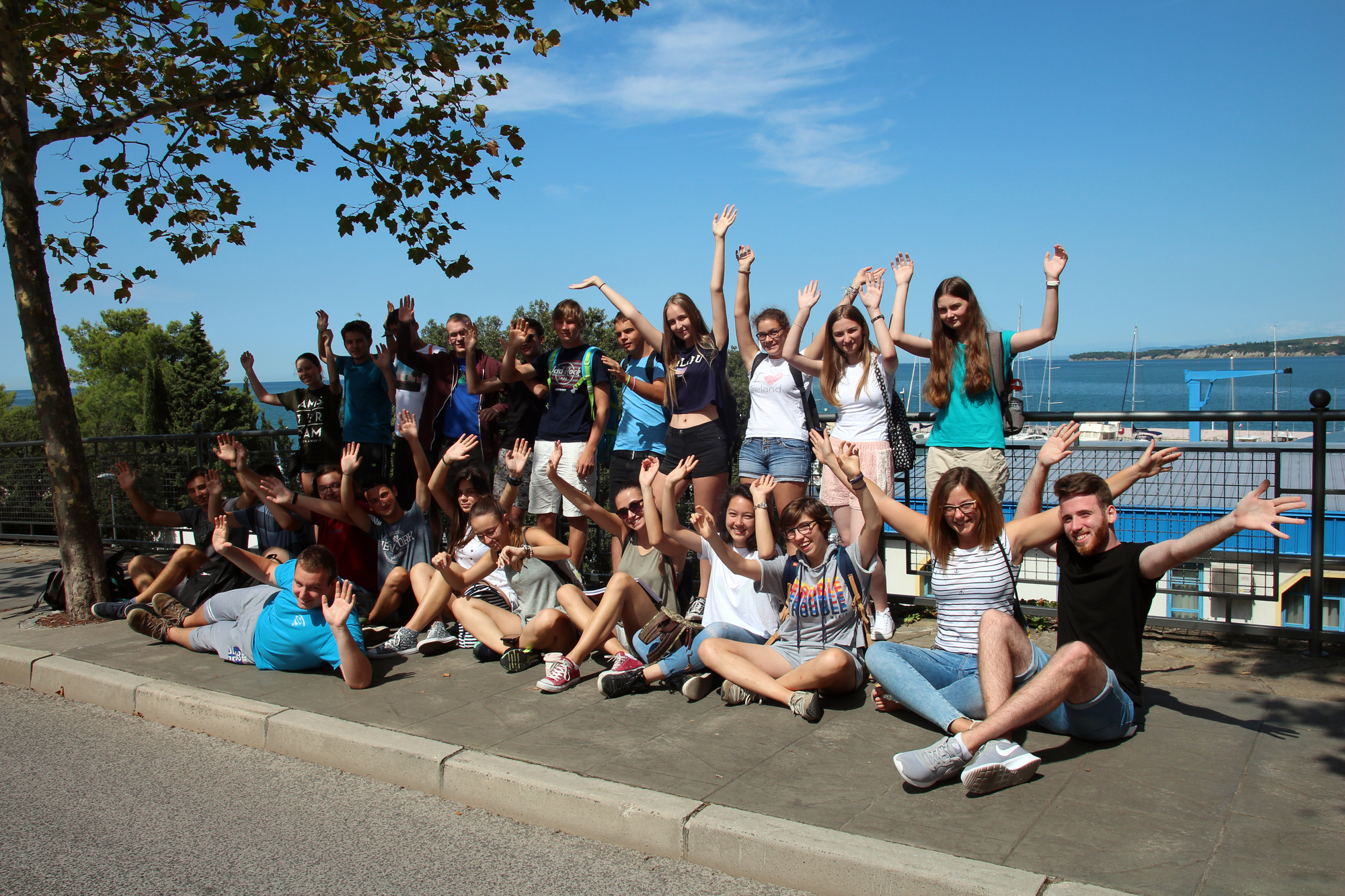 At the end of August, we successfully organized the 8th Famnit Summer Camp Math is cool for pupils from Slovenia and abroad. 21 young people from France, Hungary, Macedonia, Poland, Serbia, Slovakia and, Slovenia attended the five-day educational, research and, ultimately, social events.
An important event involving teachers, researchers and faculty students was the European Researchers' Night, which took place in the framework of the all-Slovenian project Science for Life. On Friday, 28 September 2018, participants at various locations in Koper, including our faculty, participated in interesting experiments, workshops, tours and socializing with researchers in the festival atmosphere.
We concluded 2018 with the traditional Mathematical Advent Calendar – a quiz for pupils of Elementary and Secondary Schools, which was for the second time offered also in the English language. For the quiz applied 360 competitors (335 from Slovenia, the others were from Croatia, Italy, Latvia, Macedonia, Netherlands, Romania, Russia, Slovakia and USA). From 1 to 20 December they had only one day for each task. Tasks were from everyday life.
Cooperation between UP FAMNIT, business and NGOs
In the framework of the ESS Call "Po kreativni poti do praktičnega znanja" the Faculty successfully acquired funds for the implementation of four new projects in 2018. To date, 141 students have upgraded their study skills within 27 projects and in cooperation with 23 partner institutions from the Industry.
The University of Primorska also successfully acquired funds for the implementation of 3 projects in the framework of the Open Call for projects for cooperation with NGO's. From June to September, students together with mentors and experts from the local/regional environment were involved in three different projects.
Cooperation with NGOs and business is also taking place in classrooms since our faculty is regularly visited by experts from practice both at lectures and seminars. Exemplary cooperation with the business is also carried out within the framework of the activities organized by the University development center and university incubator of Primorska.
We also continued others successful cooperations, for example, with Agriculture Cooperative Agraria Koper. In the framework of the project of the European Fund for Regional Development, we set up the Development and Learning Agricultural Center of Slovenian Istria, which aims to take advantage of endogenous and gastronomic potentials of the hinterland of Slovenian Istria, and develop it in a coherent relationship between tourism, the environment and the needs of society. The project also includes the Center for Sustainable Development Live Green and the Cultural Society Sloga Sv. Peter.
Leadershiptop
Dean: Prof. Klavdija Kutnar, PhD
Vice-Dean for Science and Research: Assist. Prof. Marko Orel, PhD
Vice-Dean for Education: Assoc. Prof. Dunja Bandelj, PhD
Vice-Dean for Quality Assurance: Prof. Elena Bužan, PhD
Vice-Dean for International Cooperation: Assoc. Prof. Ademir Hujdurović
Departments' Chairs:
Faculty's Secretary, Head of Administration: Nataša Vraneš
Contact ustop
University of Primorska
Faculty of Mathematics, Natural Sciences and Information Technologies
Glagoljaška 8
SI-6000 Koper
Slovenia
(Updated: 1.2.2019)