So… you've decided to come to the University of Primorska and move to the Slovenian coastile.
Now what?
No worries, we are here to help!
Join us a few days before the start of the semesterand learn how to survive here as a student!
We highly recommend that you attend, as you will:
Learn about the university and the area
Learn about the administrative procedures you need to do when moving to Slovenia
See what you can do as a studen t besides studying (where to eat, where to party, and where to spend your free time)
Meet fellow students
Meet tutors
Meet faculty members, professors, researchers
Meet international officers
Meet the Student Organisation of the University of Primorska
Learn about the study and research at the University of Primorska
Preliminary programme:
Thursday, 28 September 2017:
FIRST STEPS IN PRIMORSKA - Start at 2 pm

Welcome at the University of Primorska
About Slovenia, the region, and interesting spots
Practical information important for your stay
Excursion around faculties, including bus to Portorož
Fair – present your own country*
Party in Portorož
Friday, 29 September 2017:
GETTING TO KNOW THE FACULTY - Start at 10 am

Meeting with programme study coordinators, faculty members, and departments
Discussions on expectations
European researchers' night – a chance to see research equipment, meet researchers, and learn about UP's research
Saturday, 30 September 2017:
USEFUL TIPS AND TRICKS - Start at 10 am

Crash Slovenian course
Socializing time
Sunday, 1 October 2017:
RELAXATION BEFORE WE START
Monday, 2 October 2017:
1, 2, 3, GO!

Before noon: Faculty receptions• 11 am: rector's reception of all freshmen
The exact programme will be sent to you via e-mail before your arrival!
IMPORTANT ==> Confirm your participation at iris.skrt@upr.si, so that we can plan the event accordingly before 31 August 2017!
*Bring food and drinks that represent your country and anything else you believe would help others understand where you are coming from. Be creative!
More information: contact your faculty international office and/or student office.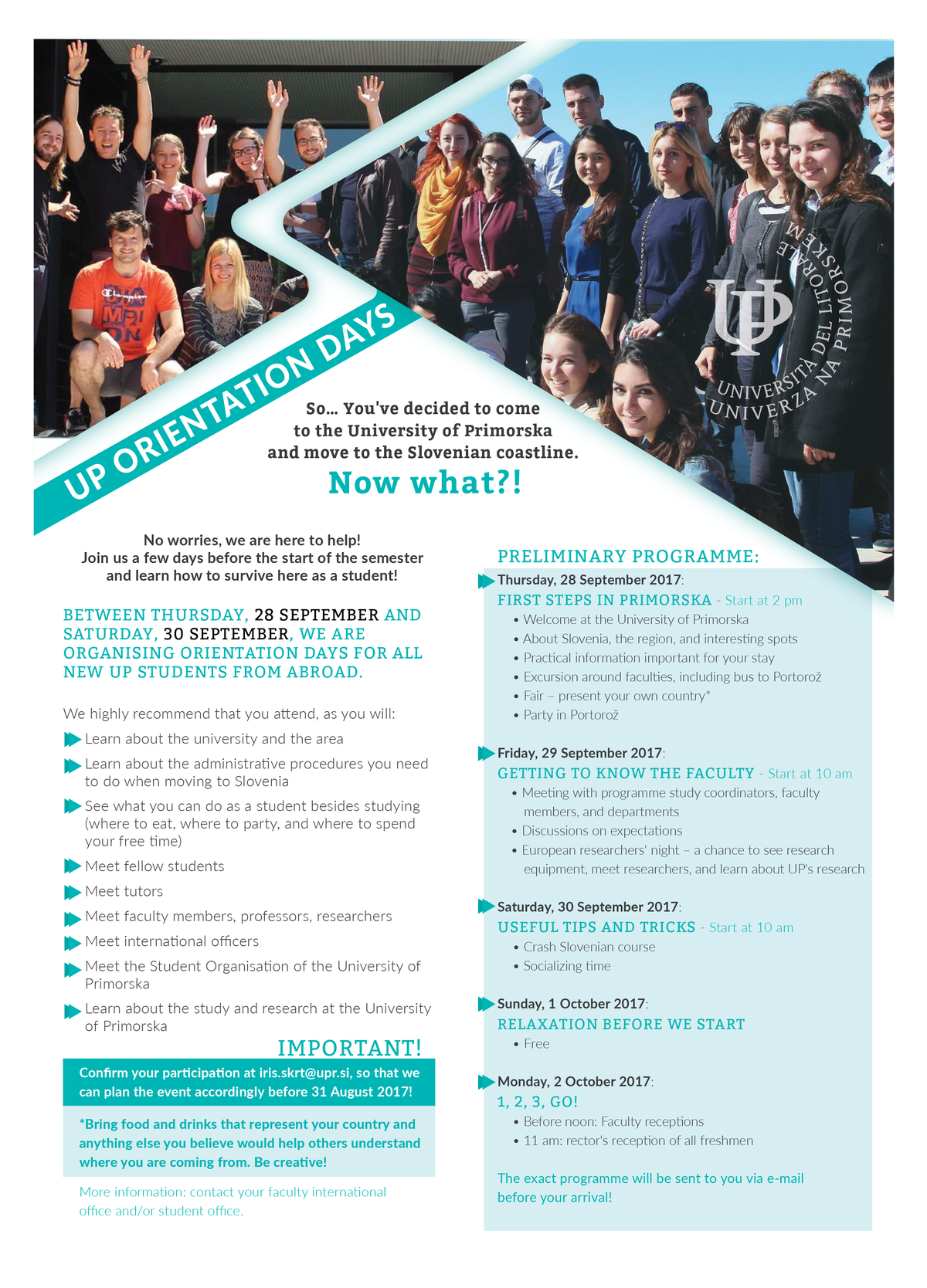 ---